Speaking schedule
From someone who heard the Kurdsjuk story:
We have read your book. Heard your speech and now we want more! You sir are without doubt a story teller extraordinaire. You held the audience in the palm of your hand almost two hours and they are asking for more. Thank you over and over again for speaking our group of World War II, Vietnam and Korean veterans. You again prove the miracles of God.

R. B. Hemmenway, Speaker Coordinator for the South West Florida chapter of Destroyer Escort Sailors Association
Anatole approaches his audience in one of two ways. If the audience is younger he teaches them the history of the last century stressing in particular the value and fragility of freedom and opportunity and how we can muster the courage and resolve to face deep hardships. His family story holds the students captive and he has received scores of letters from them expressing their gratitude for sharing it with them.
Older audiences more familiar with the history hear about the strength of the human spirit when challenged by almost insurmountable odds. Some have direct experience through hardships of their own of that sad era. Others know of it by hearing the stories of the parents and grandparents. In either case, the responses to the talks are positive, and encouraging as their testimonials reveal.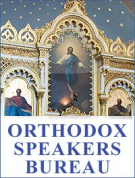 For speaking requests in and around the Fort Myers, Florida area please contact Anatole directly.
Out of state or overnight requests are handled through the Orthodox Speakers Bureau.
Schedule
Upcoming Events — 2011
June
22 Wednesday 6:00pm           Hodges University, Ft. Myers Campus
4581 Colonial Blvd. for Info Call 239-482-0019
29 Wednesday 10:30am         Holocaust Museum, Naples FL — Teachers and Students Seminar
May
12 Thursday 6:00pm               Charlotte High School, Punta Gorda, FL – Public Event
April
2 – 5 Saturday – Tuesday        Purdue University, Lafayette, IN
9 Saturday 12:00pm                Military Officers Association, Ft. Myers, FL
March
16 Wednesday 8:30am            United Methodist Church, N. Ft. Myers, FL
17 Thursday 12:00pm             Florida Gulf Coast University, Estero, FL
19 Saturday 10:00am – 4:00pm              Reading Festival, Harborside Hall, Ft. Myers, FL
21 Monday 10:00 am               Hodges University, Ft. Myers, FL
Previous Engagements
Moderator of FGCU World War II Symposium –- Courage in the First Person
Ft. Myers First Baptist Church
Lexington Veterans Association at Lexington C. C. Ft. Myers
Edison College Ft. Myers Holocaust Remembrance
Edison College Ft. Myers Holocaust Round Table Discussion
International Men's Club of Naples Vasari Country Club, Bonita Springs
Lee Cty. School District-Pride & Patriotsmi Barbara B. Mann Theater, Ft. Myers
FGCU World War II Symposium FGCU Campus Student Center, Florida Gulf Coast University
United States Power Squadron-Naples Chapter Naples Yacht Club
Literary Society of Northern Trust Bank
Wabash Valley Education Center, Lafayette, Indiana
SW Florida Reading Festival, Fort Myers, Florida
South Fort Myers Middle School
Lee County School District
Gulf Coast Middle School
Combat Infantrymen's Association
Naples WW II Historical Society